Advanced Manufacturing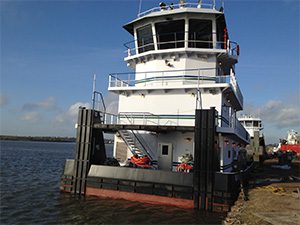 San Jac Marine, LLC is proud to offer one of the marine transportation industry's most advanced manufacturing facilities for towboats, tugboats and push boats serving customers all over the world. Our powerful, reliable and innovative towing vessels can be found wherever customers need to move a wide variety of loads and cargo, safely and efficiently. Whether we're supporting U.S. customers in the inland Mississippi and Ohio Rivers, the Intracoastal Waterway or throughout Gulf Coast and beyond, or our international customers in South America, Europe, Asia and Africa – you can rest assured that every vessel we deliver has the same high-quality standard. If you need to move product from point A to point B, San Jac Marine, LLC has the right vessels to keep your company moving forward.
Custom Quality With Your Specifications in Mind
We take pride in our custom manufacturing services and we deliver exactly what our customers expect on time and on budget. With decades of tugboat, towboat and push boat expertise, we offer a wide range of key features to suit today's needs, including:
Power Options Ranging from 2,000HP to 10,000HP
Quiet, Smooth and Efficient Design
Comfortable Crew Accommodations
Precision Guidance and Safety Features
Quality Welding Expertise
Custom Woodwork and In-House Carpenters
QAQC Protocols and Systems to Ensure Reliability and Uptime
San Jac Marine, LLC's Commitment to Total Customer Satisfaction
Whether you need a single vessel or a fleet, rely on San Jac Marine, LLC to keep your projects moving. Contact us today.